---
TAX DAY RALLIES – APRIL 15 – Noon to 4 PM –  downtown Portland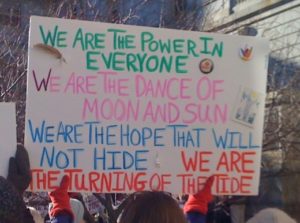 President Trump: Release Your Taxes Rally
noon to 2 pm, Portland City Hall, 389 Congress St.
March Forth, an organization formed by a group of women who attended the Women's March in Washington the day after the Inauguration, is hosting a Tax Day Rally at Portland City Hall at noon on April 15. This rally will include a demand to President Trump to release his taxes so that the public will know his potential conflicts of interest and if he has financial ties with Russian President Putin and other Russian officials. The rally will also be about holding the Trump and LePage administrations accountable for their tax and economic policies. Tax Day rallies are taking place throughout Maine and the country.  At 2 pm, walk next door for food, talk and sending postcards to the White House, Congress and Augusta about fair taxation and govenrment budgets by and for people at the Rally 4 Justice  "Stamp Out Tax Injustice" event at First Parish U.U. at 425 Congress Street.

Speakers on the City Hall steps will include State Representative Erik Jorgensen; economist Marianne Hill; Phil Bartlett, chair of the Maine Democratic Party and a State Senator; Kim Matthews, a former attorney in Maine; Kevin Concannon, former Commisioner of Maine DHS and former Undersecretary of the U.S. Department of Agriculture under President Obama;  Richmond attorney, Alice Knapp, of Maine AllCare; and DrewChristopher Joy, Executive Director, Southern Maine Workers' Center.
Jennifer Jones, a core member of March Forth, stated that "with the recent proposed budgets of President Trump and Governor LePage, the issues of tax and economic fairness and justice have risen to the top of the resistance movement's agenda."
Along with March Forth, the Tax Day Rally is being sponsored by Greater Portland Indivisible, Rally4Justice, and Rosemont Resists.
Stamp Out Tax Injustice
2-4 pm First Parish U.U. 425 Congress St.
Following the rally, the First Parish Church will open its doors to the crowd for food and an indoor resistance event. Summaries of state and federal tax/budget issues will be provided along with postcards, stamps, and writing points for State Legislators, the White House, and Congress. Participants can demand fair, progressive taxation and government spending on health care for all, affordable housing, public education and needed social services. First Parish Church is one building east of City Hall at 425 Congress Street.
In the historic First Parish UU Meeting Hall, Joby Thoyalil – Policy Analyst, with Maine Equal Justice Partners – will speak on Lepage's austerity budgets, turning away needed, available federal funds for health care, child-care and nutrition. With an Masters degree from N.Y.U. School of Public Policy, Joby Thoyalil explains, "Under Governor Lepage, 'Deep Poverty' or living under 50% of the Federal Poverty Level has soared in Maine, especially for children, compared with all other states". Thoyalil will discuss MEJP's support for Medicaid Expansion now before the Maine Legislature and on the Maine November 2017 ballot plus MEJP's proposed "Act to Reduce Child Poverty by Leveraging Investments in Families Today" or LIFT bill up for a vote in Augusta. LIFT calls for Maine to take advantage of available federal funds to increase TANF (Temporary Aid to Needy Families) benefits with housing vouchers, heat pumps for low-income homeowners, child-care assistance to enable return to work, support for educational programs and boosting the Earned Income Tax Credit for those at 50% of the Federal Poverty Level or below.
| | |
| --- | --- |
| CONTACT: | CONTACT: |
| Kim Matthews | Angus Ferguson |
| 591-5049 | 749-6618 |
| kmatth2739@hotmail.com | angus@rally4justice.com |