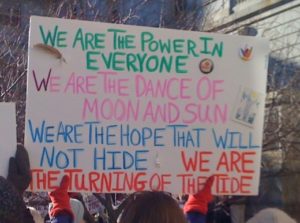 RALLY 4 JUSTICE
Join in forming a RALLY 4 JUSTICE coalition for broad progressive change to organize and mobilize opposition to hate, racism, sexism, fake news and government and economy by and for wealthy people and corporations, who unjustly profit off of the vast majority, eroding our vital democracy. Experience the joy of creating powerful solutions together. Please tell friends, family, neighbors and co-workers.
RALLLY 4 JUSTICE is based in the historic First Parish Unitarian-Universalist Meeting Hall at 425 Congress St. in Portland, Maine, where in 1832 radical Abolitionist William Lloyd Garrison stood in the pulpit and called for emancipation of slaves in the United States with full citizenship and no compensation to slave owners.
Together let's roll up our sleeves and mobilize for justice, equality and democracy, civil liberties, environmental and economic justice, criminal justice reform, health care as a human right, voting rights, equal rights for women, immigrants, the working class, people in poverty and LGBTQ members of our community, plus quality, free, public education from pre-school through college and waging peace in a troubled world.
Come to the next RALLY 4 JUSTICE on Saturday, February 25, 2017 in the First Parish UU Meeting Hall 425 Congress St. Portland, Maine. Like us on Facebook @rally4justice.me/ .